Roof and building inspection
Aerial inspection of the inaccessible construction. Search for structural anomalies.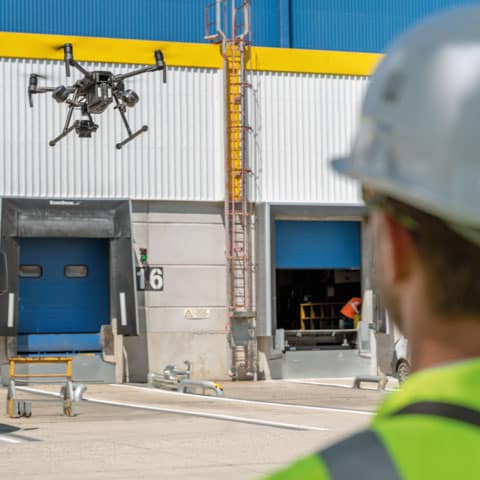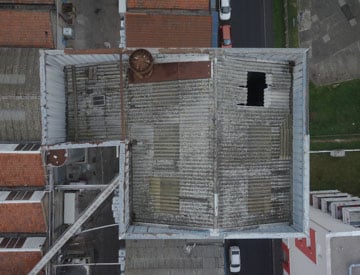 Fast and secure inspection
The aerial inspection of a building allows to quickly and accurately visualise the defects of a facade or a roof despite the difficulties of access.

Drone roof inspection methodology
What is roof or building inspection by drone ?
The inspection of a roof by drone or the aerial inspection of a building consists of flying over the building with a drone to inspect every corner in detail. The aircraft can film or take snapshots of the roof and facades using an on-board high-definition camera to produce high-resolution videos or images.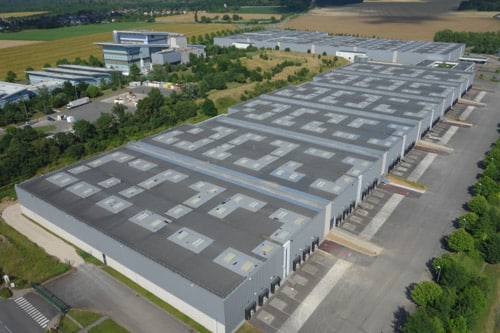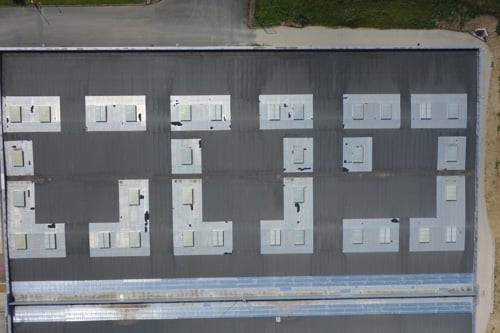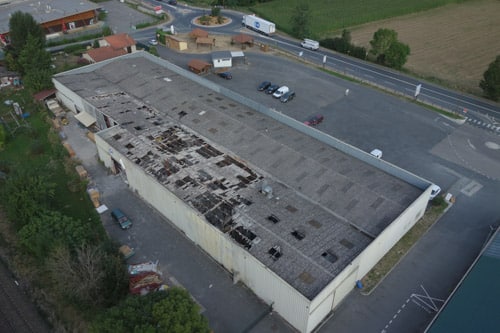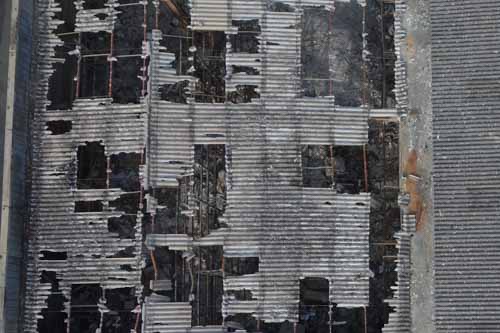 This intervention allows to carry out regular monitoring of the state of the constructions to plan repair and maintenance work. It can also be used to observe damage after a weather event (storm, hail).
If necessary, we can equip the drone with a thermal camera to perform building thermography.
Simplicity of the intervention
Drone roof inspection is easy to implement and very fast
regardless of the height of the building or its dimensions on the ground. No need to scaffold or rent a lifting platform. The drone is piloted from the ground by a specialised operator, who visualises its action in real time.
Costs and intervention times are significantly reduced.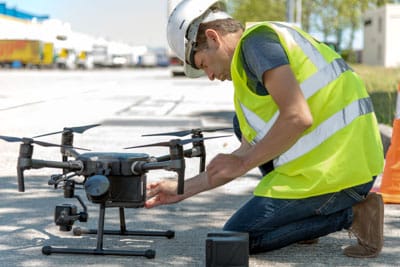 The aerial inspection of buildings or roofs
is done in complete security since it does not involve any operator other than the drone pilot, who remains on the ground.
This technique avoids any risk associated with working at height.
Thanks to our online viewing system, you can easily explore the photos and videos produced during the aerial inspection without specialised software. If necessary, orthophotographs or 3D modelling can be made to provide a greater level of detail or allow certain manipulations. These easy-to-use renderings will help you in your decision-making and will allow you to make precise measurements if necessary.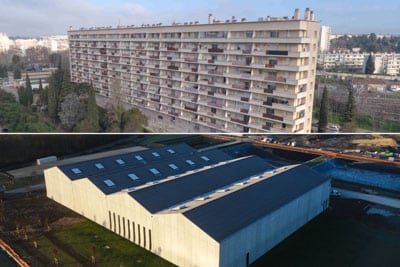 Aerial inspection by drone: for which buildings?
Aerial building inspection is of particular interest to operators of large industrial buildings: production plants, workshops, warehouses, commercial areas, etc.
But the inspection of a roof using a drone can also be of interest to trustees who manage high-rise buildings, farmers who own market gardening greenhouses, the army, etc.
Application of the drone roof inspection
Some concrete examples of aerial inspection of buildings or roofs
Searching for disorders on a cover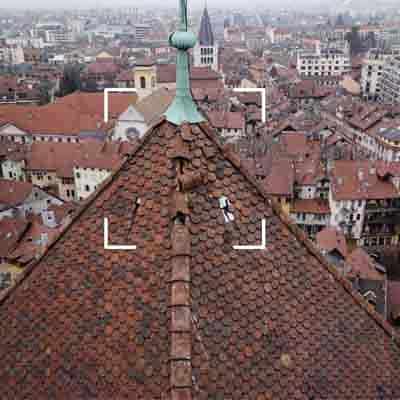 Drone roof inspection allows to visualise the damage caused by hail or wind on a tiled roof, steel deck, fibre cement or on a waterproofing membrane.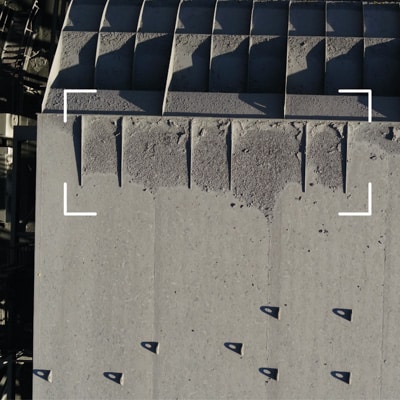 In the event of water infiltration inside a building, the origin can be found by a drone inspection of the facades or roofs.
Verification of a photovoltaic roof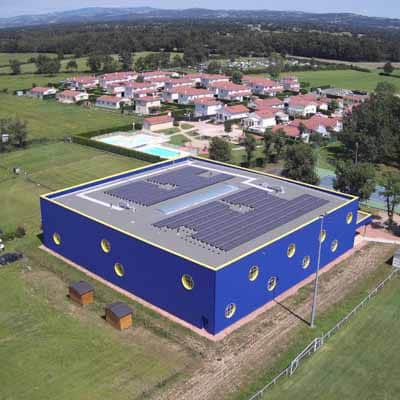 The aerial inspection of a photovoltaic building is useful to ensure the good condition of the panels or to check their cleanliness. In addition, an aerial thermography allows to check their proper functioning.
Inspection of a building facade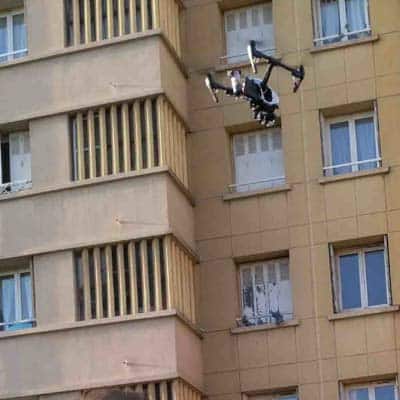 The drone can also identify the defects of a facade coating: cracks, detachments, blisters…
Control of rainwater drainage gutters on the roof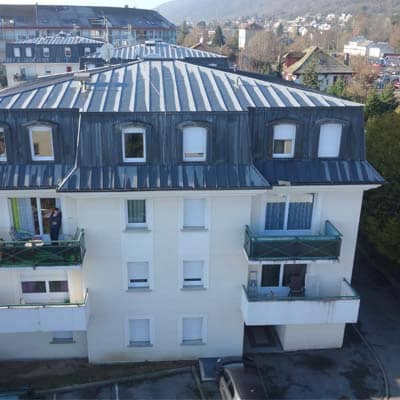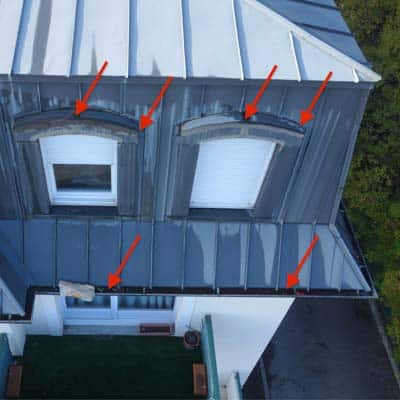 Flying over a roof by drone allows to check the absence of bird nests, plant debris or broken roofing materials that could clog the gutters.
Checking the condition and tightness of elements placed on the roof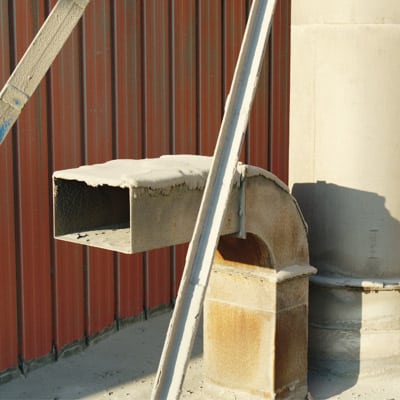 Drone roof inspection is also used to check the condition of external collective or industrial ventilation ducts, or even the sealing around ventilation chimneys or skylights.
Our expertise in aerial inspection also extends to other areas of application :

Discover our entity dedicated to audiovisual production